Well hey ya'll!! I have a big announcement to make today and I"ve had the HARDEST time keeping my mouth shut, you have no idea!
I'm so excited about this and I hope you all will be too...
S
o, without further ado:
My friend Melissa and I have paired up to bring you the latest and greatest swapportunity!
Are you excited? Get Excited!


This swap is all about you!
What woman doesn't love getting pampered and feeling pretty?
EXACTLY.
You'll be paired up with an awesome lady and the two of you will have time to get to know one another and find out what would make each other feel pampered and pretty. Maybe it's a mani/pedi kit, bath salts and bubble bath or, maybe it's calming music and scented candles! Whatever it is, it will be your mission to figure it out and deliver a sweet package to your new friend!
So you want to play along?
Awesome!
You will receive an email with your match by 04/14.
Spend some time getting to know your partner and then mail out a perfectly pampering package by 04/29!
There is a limit of $15-$20.
Then we'll all meet back up on May 7th to link up and share our packages!
This swap is open to anyone -
worldwide folks!
We will make every effort to match you with someone who resides in your country, unless of course you are open to shipping elsewhere (you can let us know on the intake form!)
When signing up for this swap, please consider the time and financial commitment you are making. We want this swap to be a great experience for everyone involved and we'd hate for anyone to not get a package!
Join us for the major fun that is about to be had, and if you want us to feel extra special, grab our button and spread the word!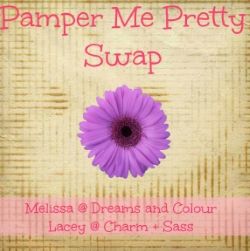 {This month's advertisement}