*SIGH*
Y'all, I need help.
I've pretty much had a crappy week and I almost completely forgot about today's weigh in. Pair that with the fact that I've had my fair share of
birthday cake
this week and I
knew
I was in trouble.
Last week I did so good!
This week, not so much.
I gained
AGAIN
; .8 pounds! Apparently that is the magic number when it comes to
gaining
around here.
I realize that my gain wasn't even a whole pound but hear me out. This is what I do
every single time
I start to make progress. I get comfortable. I feel like it's coming off easily and I just relax. I cannot relax right here. I haven't even lost 10 pounds yet and my ultimate goal is to loose 50!!
You have all been so amazing with the sweet comments & emails and I love each and every one of you for your kind and encouraging words. I read them and I get a little teary eyed or my heart gets bigger with happiness. No, I'm not exaggerating. I'm a sap and women helping other women, especially women who don't even know one another, just makes my heart sing.
Unfortunately, after I've closed my computer and I am in the thick of what is going on around all around me, things that are sometimes out of my control,
I turn to food.
It's the whole reason why I'm fat y'all. When I'm sad, pissed, confused or at a total loss, I eat. I've hit every one of those emotions this past week.
So what I'm getting at is this
: If y'all think about me through the next week could you pop up and say something like
"Hey, put that chocolate chip cookie down!"
Or maybe,
"Hey, how about you get up off that couch and do that ab workout, hmm?"
I promise I won't get pissed.
I will thank you, over and over again.
Feel free to embarrass me on
twitter
or
facebook
. If you'd prefer to do it quietly then you can always
email me
. I would be happy to return the favor for any of you.
I just need to have my ass kicked this week!
I hope you all did much better than I did and here is to making progress next week!
Click Here for Week 6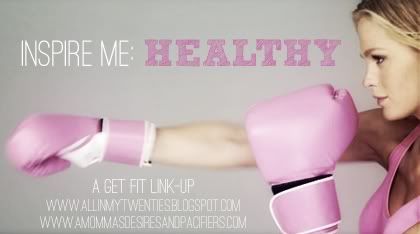 XO,
Lacey
©..And They Call Me Mommy,2012.