The last few weeks the weather has been pretty chilly around here so I've been squeezing in as many soup and chili recipes as I can. I found this recipe on Pauladeen.com and decided to give it a try. Traditionally, "Texas Chili" doesn't have any beans in it but I'm a fan of beans for so many reasons - the fiber, the bulk they add to meals which helps stretch your meat & your budget..anyhow, as non Texan as this recipe is, I just had to try it!
I changed a few things up along the way, as noted in the recipe.
Ingredients:

1 (14.5 oz.) can kidney beans, drained and rinsed
1 (14.5 oz.) can black beans, drained and rinsed
1 (14.5 oz.) can pinto beans, drained and rinsed
1 (28 oz.) can whole peeled tomatoes
2 (28 oz.) can diced tomatoes
1 small can tomato paste
1 can Chili beans (being that I usually don't put beans in my chili, I didn't even know what this was. Needless to say, I didn't use them!)
1 Green Bell Pepper, diced
1 Medium Onion, diced
2 Cups Chopped Celery
1 Package chili seasoning mix (I didn't use a seasoning mix - I had all seasonings on hand)
Ground Cumin
Chili Powder
1 lb. ground beef and sausage, browned and drained (I actually used 1 pound of chili meat)
Shredded cheddar cheese, sour cream, and green onions for garnish
Directions:

Brown chili meat in a skillet and then drain. Spray a large pot with non stick cooking spray and heat over medium heat. Add the onion, pepper and celery and saute briefly. Stir in the tomatoes. Add cumin and chili powder to taste and cook about 8 minutes or until vegetables are tender. Add beans, meat, and chili seasonings. Cover partially and let simmer for 4 hours.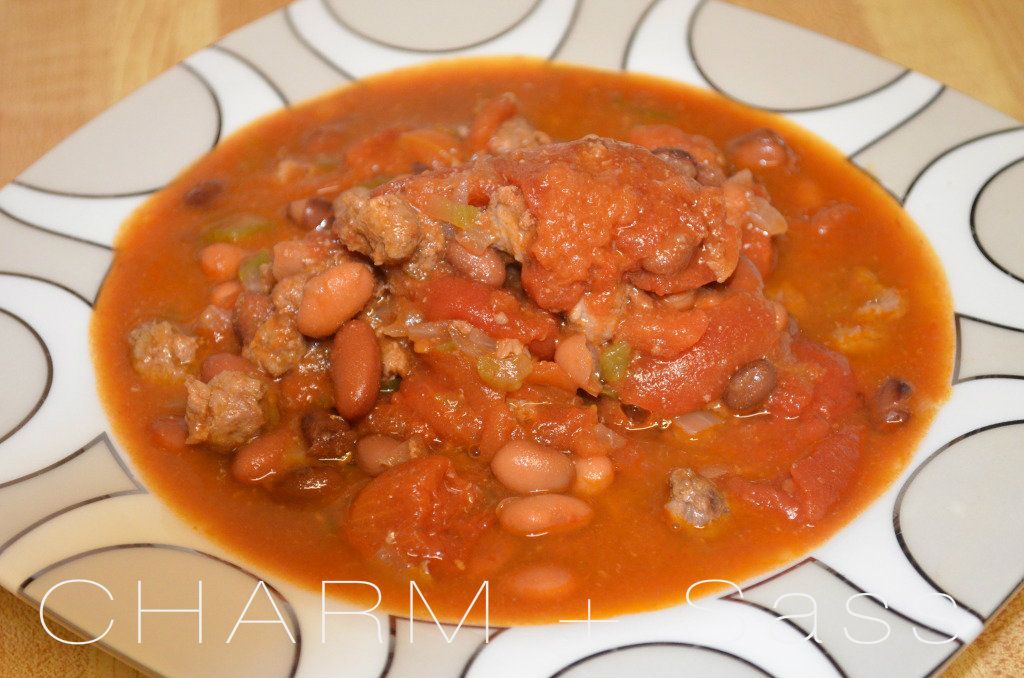 I served this chili over fritos and topped it with shredded cheddar cheese. I loved this recipe because it made so much that I had enough to freeze to save for another meal! It was delicious and so filling!