Heeeey Y'all! Happy Wednesday. Before we get started with this weigh in business I just wanted to say THANK YOU to all of you who have been reading and following along this little journey with me. You have all been so sweet, supportive and encouraging! YOU have been exactly what I was needing. So, THANK YOU, I can't say it enough. Your words truly mean so much to me!
I was SUPER nervous about this weighing in this morning but I've surprised myself again! I was mostly worried because over the weekend I may have drank my weight in beer..Okay well not that much beer, but you get my point.
I'm down .6 pounds since last week! A
GRAND
total of 6lbs. It's slow going, and of course I'd rather things be happening a lot quicker but I'm not getting impatient. I'm happy to be seeing consistent results week after week and I'm trying to just be happy with that.
On Monday I
started
tried this
insane ab workout
; the challenge was to do it for 30 days straight which I had FULL intentions of doing, but I could only make it through the 1st half of the workout. I have NO core strength after 2 pregnancies/C-sections so I was really struggling through it. My plan was to just get up and try again the next day and keep doing it until I could complete it. Then I woke up on Tuesday. IN PAIN. Not a little bit of sore muscle aches but excruciating pain. I could barely lift my legs up because it hurt my abdominals! Yes girls, this workout is legit and as soon as I can once again sit on the floor I WILL be back at it.
Ouch
.
Click Here for Week 3
XO,
Lacey
I'm linking up with
Raven
&
Kristin
again this week for Inspire Me Healthy!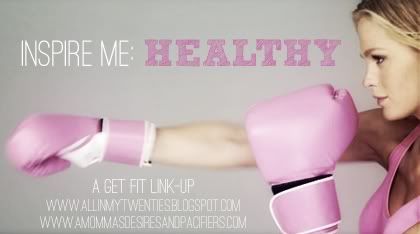 ©..And They Call Me Mommy,2012.