Crap. I gained weight this week y'all! I
GAINED
weight. I even got my ass up off the couch and went to the gym this week! Seriously,
I did!
I mean, it was only
ONCE
, but damn, give a girl a break already! Also, I'm 5 weeks with no soda. You read that right.
FIVE WEEKS
. Do you know how hard that is? I'm sure plenty of you have a clue as to how I'm feeling.
UP .8 pounds
Yep, I'm up .8 pounds. Catastrophe right?
It's really not.
I'm upset that I gained weight this week
BUT
if I weren't shoveling food in my mouth like a ravenous pig then I would have
lost
weight this week instead of gaining.
LESSON.LEARNED.
As if I didn't already know that would happen...
BUT tonight I found a new piece of inspiration. While watching the news I saw a story about an
80 year old man who is STILL running marathons.
He looks to be in amazing shape, his spirits are high, and he is
LIVING.
I'm a 27 year old, relatively healthy, albeit overweight, young woman. What the hell is wrong with me? Am I lazy? Do I lack motivation? Do I not care? I'd like to think the answer to all of those questions are NO, but if I'm being 100% honest, I do have a bit of a
lazy bone.
The Point Is
if HE can do it, if countless other people can do it, then
SO CAN I.
I
CAN
lose the weight. I
CAN
run a 5K.
I
CAN
feel good about myself, inside
AND
out.
I CAN.
I WILL!
YOU CAN TOO.
Have a GREAT and SUCCESSFUL week y'all!
Make it count!
Click Here For Week 4
XO,
Lacey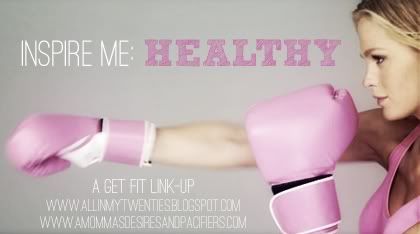 ©..And They Call Me Mommy,2012.