This post is sponsored by the lovely folks behind Peanut Butter & Co. All thoughts are completely my own. My recipe was adapted from the one found at Caramel Potatoes.
Hey y'all! I've got a sweet treat for y'all today that would be perfect to round out any Sunday dinner, but if y'all manage to wait til Sunday to make this then you are a better woman than me! I have a deep, deep love for peanut butter which is clearly evident if you've seen my cooking with peanut butter pinterest board. So, when I met a nice young lady from Peanut Butter & Co at BlogHer Food back in June and she offered to send me some peanut butter, 8 jars folks, to say that I was excited would be a total understatement. Did you know that there is a Peanut Butter & Co sandwich shop in NYC? Holy crap, y'all.

Anyhow, I've been experimenting with my peanut butter varieties for a few weeks now and I've got a few recipes to share with you. Today, we start with this:
Oh yes,
Mighty Maple Peanut Butter.
There is a good chance this one is my favorite. After you eat this Maple Peanut Butter Texas Sheet Cake, it will be your favorite too. This delicious cake tastes just like peanut butter fudge, except - fudgier. I know, that's not a word, but do you get what I mean? It's so soft and moist! Let's get started shall we?
Here's What You'll Need:
FOR THE CAKE
1/4 C Peanut Butter & Co. Mighty Maple Peanut Butter
1 C water
1/2 C Butter
1 C Sugar
1 C Brown Sugar
2 C Flour
1 tsp. Salt
1 tsp. baking soda
2 Eggs
1/2 C Buttermilk
1 tsp. Vanilla
FOR THE ICING
3/4 C Butter
6 TBS Buttermilk
1/2 C Peanut Butter & Co. Might Maple Peanut Butter
3 1/2 C Powdered Sugar, sifted
1 TBS Vanilla
Here's What You'll Do:
Preheat your oven to 375 degrees.
Prepare the cake batter.
In a medium sauce pan you will add the peanut butter, water and butter and bring to a boil, stirring occasionally. Remove from heat.
In a separate bowl, (I used my stand mixer) mix together the sugars, flour, salt and baking soda. Add in the heated peanut butter mixture and mix well. Add the eggs, buttermilk, and vanilla to the bowl and continue to mix well.
Pour batter into a greased cookie sheet or jellyroll pan. Bake for about 15 minutes.
Prepare the frosting.
In a medium sauce pan, bring butter, buttermilk and peanut butter to a boil, stirring occasionally. Remove saucepan from heat. In your stand mixer, add together the powdered sugar, vanilla and the heated butter mixture and mix well until smooth.
Pour the frosting over the warm cake and spread evenly.
This cake is
amazing
served warm
or
room temperature and with a glass of milk!
I have another little hint for you on how to serve up this sweet treat. Serve it up topped with a scoop of chocolate ice cream.
It tastes just like a certain peanut butter & chocolate candy loved by the masses!
You must try this!
Anxious to get in the kitchen to whip up this yummy number? I don't blame you, but wait! Peanut Butter & Co. is going to provide one lovely Charm + Sass reader with a Peanut Butter Sampler Pack! The gift box contains six jars of peanut butter, including: The Bee's Knees, Mighty Maple, Smooth Operator, White Chocolate Wonderful, Dark Chocolate Dreams, and Cinnamon Raisin Swirl. Trust me, y'all want to win this prize pack! Enter below via the rafflecopter widget!
Good luck!
a Rafflecopter giveaway
Linking up for All Things Pretty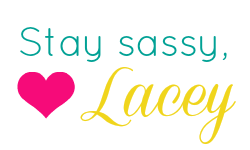 {This month's advertisement}