It's been quite some time since I've participated in Five Question Friday and today felt like a good time to jump back in. Why don't you join me? Answer these questions on your blog and then head on over and link up.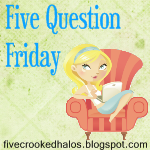 1.
Do you have a doppelgänger?
I really don't think I do! When I was younger everyone used to tell me I looked like Tiffany Amber-Thiessen. I think it's the whole heart shaped face thing maybe? However, my face is more round than heart shaped these days and I'd give my right arm to look like that pretty lady! Kidding, I wouldn't give up my right arm for anything. Maybe the left.
2.
Do you keep your car cleaned up?
Actually, yes, I do! My husband is the one who trashes it - seriously! He's also the one who has the duty of cleaning it though. It drives me crazy when I get in the car and he's left trash all over the place. DRIVES.ME.CRAZY.
This might be a good time to mention that I got a new car last Saturday! It was kind of my Mother's Day present! So new car = super clean. At least for now!
3.
What is a current fashion that drives you crazy.
I'm really not on the up and up with fashion. If I see something that I like then I wear it whether it is fashionable or not.
4. H
ow often do you go grocery shopping?
Usually just once a week. It used to be every two weeks but the kids are getting older and we run out of certain things more often than before. Luckily my hubby is usually willing to stop on his way home from work if I just need a thing or two. Bless that man!
5. What has been the best surprise of your life?
I've had some serious surprises in my life but the absolute best has been in my husband. I talk a lot about this in the second part of our love story, but if you would have told me when I first met him that we'd end up married someday I would have laughed in your face for days. Never in my wildest dreams would I have imagined that we'd end up together. He surprised me though. He is more than I could have ever imagined. The best part is that he has shown me what true unconditional love is and I really don't know how I got so lucky! Okay, enough of that sappy stuff.
{This month's advertisement}